Here are photos of autumn leaves seen in Kumobaike pond, Karuizawa, Nagano. Karuizawa is very famous place as one of Japan's summer resorts close to Tokyo, but it is also a nice spot to visit in autumn.


A monitoring camera, Karuizawa-Kusabana-kan, is watching the pond all through the year. You can decide when you should visit the pond, seeing the current color of the leaves.
It takes only one hour to travel from Tokyo station to Karuizawa station by JR Shinkansen Super Express.  You can fully enjoy Kumobaike pond as one-day trip, but of course I would like to recommend staying in Karuizawa for a few days. You can find a vast outlet mall in front of Karuizawa station, where many people gather to spend a nice holiday. If unfamiliar with volcanoes, you can learn a lot about it at the sight of Oni-oshi-dashi.
The beauty of red leaves is amazing. Have fun , taking an hour walk around Kumobaike pond!
There are so many ducks on lake. It is so beautiful because red leafs reflects to lake surface.
If you walk from Karuizawa station to Kumoba-ike, you can find so many red trees around road.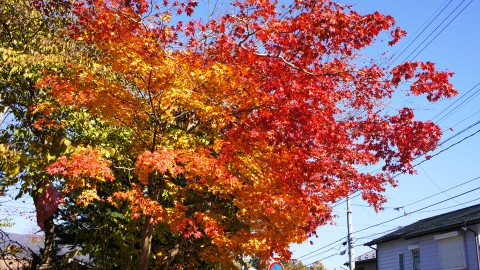 I think, Karuizawa Kumoba-ike is the most beautiful autumn leaves in eastern Japan.
>>> Discover Gourmet Japan